Super comfortable and easy to use! What more could you ask from a technology? Bluetooth over the years is gaining strength among users, who find it the easiest way to connect their accessories.
Thanks to Bluetooth, you can connect peripherals and headphones to any type of phone or computer equipped with this technology. In this case we will talk about how use Bluetooth in Windows.
What you'll find here: Enable Windows Bluetooth. Activate Bluetooth from the Windows notification panel. Enable Bluetooth from Windows 10 settings.
Enable Windows Bluetooth
If you have a Windows PC and it has Bluetooth, don't miss it. In this article you will see how easy and fast it is to activate and use it to wirelessly connect your headphones, keyboards and mice.
First of all, you should know that There are two ways to enable Bluetooth in Windows. Both equally easy. The first is through the notification panel and the second through the Windows settings.
Obviously, enabling Bluetooth through the Windows notification panel is the easiest way, but if you've changed it, you might not find the necessary options.
On the other hand, the second method, through the configuration, will always be available, and it will also offer you much more information about what you are connecting. Shall we start?
Activate Bluetooth from the Windows notification panel
as you can see, this is the easiest way to activate your Bluetooth. To activate it, do the following:
Step 1
Click on the notification panel, which you will find in the lower right corner of your screen.
2nd step
As soon as you press, a column appears where the notifications of the applications you use are located. Below you will see a series of shortcuts to the most important settings, such as "VPN" That is "Screen clipping". Among them will be "Bluetooth".
Step 3
To activate it, just click on its icon. How do I know if Bluetooth is on? Easy. The tile where the icon is will darken and also show all the devices you have linked.
Sure if you want to disable the Bluetooth of your Windowsjust click on its icon again.
Enable Bluetooth from Windows 10 Settings
Of course, the above method for Bluetooth activation is faster, but it is not always available, as mentioned above. On the other hand, enabling Bluetooth through Settings will still be there, and it offers other benefits as well.
If you want to try it, follow these steps:
Step 1
Go to the Windows Start menu and click on the gear icon. This is the icon for access Windows settings. You can also do this through the notification panel.
2nd step
Here you will find all Windows settings, including Bluetooth. To access it, click on "Devices".
Step 3
After that click on "Bluetooth and other devices". You will find all the options there. Bluetooth settings.
Step 4
To enable Bluetooth, simply click on the slider under "Bluetooth" until it looks like "Enabled".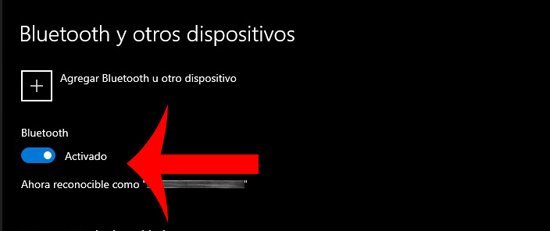 As soon as you turn it on, you will be able to see all Bluetooth paired devices that are connected to your computer.
It should be noted that for disable Windows Bluetooth, just click on the slider until it appears "Disabled".